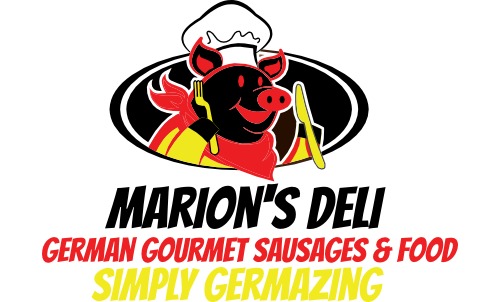 Are you ready for a Germazing Experience?
Get Marion's Deli for your Event
Do you like the Octoberfest feeling? Or would you like to have simply a BBQ with proper Sausages, Meats and Burgers for your event? Maybe you just looking for something different for your Garden Party, Wedding, Birthday or Cooperate Event. Like the Alpine feeling no worries we can do delicious melted Alpine Raclette too?
If so you have come to the right place. Your guests and of course yourself will be simply germanised by us.
Here is a little example of what we can offer
German Gourmet Sausages (Bratwurst, Frankfurter filled with Cheese, Frankfurter filled with Bacon, Foot long Sausages, German Beef Sausages, Chicken Sausages, Ham Sausage and even Vegan Sausages, )

Currywurst

Grilled German Meatloaf (Fleischkaese)

Schnitzel Vienna Style (breaded escallop of pork or Chicken)

grilled Pork Belly

marinated Pork steaks or Turkey steaks from the grill

Kaesespatzle (German Noodles cooked in wild garlic butter with cheese and roast onions)

Alpine Raclette


Veggy Burger

German Style Burgers (Frikadellen)

German Style Sausage Casserole

Goulash

German Dumplings

German Farmers Breakfast

Veggy Casserole German Style

German Style Beef Olives

Cold Meat Platters

Smoked Fish Platters

Grilled Fish & Fish Kebabs with our delicious homemade dips and sauces (Cocktail & Remoulade Sauce or Marion's Secret Chilli Dip


Salad Buffets

Sides: Fries, grilled potatoes, Sauerkraut, Spaetzle, Dumplings

delicious homemade Cakes and Desserts
All our sauces for the Currywurst and Schnitzel are homemade.
BBQ-Curry Sauce

Creamy Mushroom Bacon Sauce (Jaegersauce)

Tomato-Peppersauce (Zigeuner sauce)
We are happy to customize our menus to your requirements.
Just fill in the form below with your enquiry and we will get back to you asap.