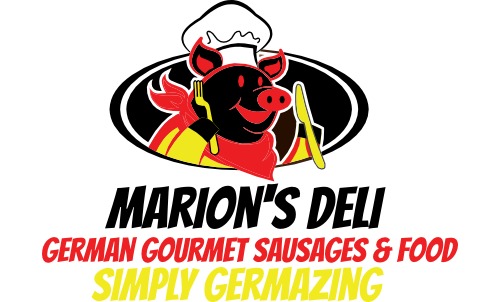 We pride us to serve just the best quality and having very high standards to give our customers a real German Food Experience in the UK.
We can get hold of over 200 different kind of German Sausages (a lot of them custom made for us) and German products for your event.

We are specialising in German Food & Sausages, so if you are looking for something German you do not need to look further
All our German Sausages are premium products from award winning German Butchers and also gluten free and custom made
Our meat is home marinated using a secrete recipe from Marion's Mum Heidi
Our sauces for the meat, Schnitzel and Currywurst are all homemade too
We are the first Mobile Food Stall and Caterer specialising in German Food in Devon and with over 20 years of experience working in Restaurants and Hotels in Germany and England we are experts in the food business
You will find us on a regular basis at Markets and Festivals in the South West, Oxford,Reading and London.
We support local businesses and will get as many ingredients as possible form local markets, farms and shops.
We provide catering for parties, events for any occasion and any number of guests. We are also happy to caterer for any dietary requirements